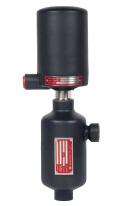 SMC-7 Series Vertical Float Type Level Switch
Xuất sứ: korea
Hãng sản xuất: Seojin
Liên hệ tư vấn

Ms Trinh
trinh@pitesco.com
0914.738.179

live:6ef6300b3a06528e
SMC-7 Series

Vertical Float Type Level Switch
CATALOG
| | |
| --- | --- |
| : Vertical Float Type Level Switch | |
: This Product is a unique level switch as a critical Process Instrument covering high pressure and high temperature.
Chamber material for this product is not only carbon steel, but also many variety steel materials including 316LSS and 304SS.
This product han been produced for suitable in water and boiler control process, metting various industrial standards and requirements to solve erroneous causes that have occurred in conventioinal industrial fields.
The customizing for this product is possible for specific operational condition and anti-corrosion. Please contact our sales staff if you have andy special design for ths product.
| | |
| --- | --- |
| : -40℃~400℃ | |
:

•SMC-73 : Max. 46 BAR
•SMC-75 : Max. 70 BAR
:

• Can be used for vessel under high pressure and temperature
• Designed to ASME B31.1
• Weather poof / Explosion proof / Frame proof
• Unique and reliable : Snap acting switch mechanism
• Vibration resistant - eliminates fate trips by special spring
• A wide variety of chambers can be used
• Multiple switches can be assembled in a unit for economical purpose
• Weld procedures approved to KEPCI MQ and ASME IX
• Qualified to IEEE 323-2003, and IEEE 344-2004
• Applicable to hermetical seal type snap action switch
: • Standard : 1 SPDT
• Optional : 1 DPDT
• Contact Rating :
10A 250V AC / 0.6A 125V DC
5A 250V AC / 0.5A 125V DC
1A 250V AC / 1A 30V DC
15A 250V AC / 1A 125V DC
1A 115V AC / 3A 28V DC